It All Started With a Horrible Car Buying Experience...
Like many of you reading this right now, when I purchased my very first new car, I couldn't believe how frustrating the whole process was. It's been said most would rather visit a dentist than haggle with a car salesman - and I could finally see why.
You're forced to deal with high-pressure salespeople who constantly lie, cheat, and steal their way to a sale. Not to mention it can take hours for you to get the deal done and finally drive your car home. After my terrible experience, I wondered why we couldn't just buy vehicles the same way we buy any other product. Why must we worry about being ripped off?  Buying a car should be fun, but instead - it's a painful, costly, and time-consuming process for most!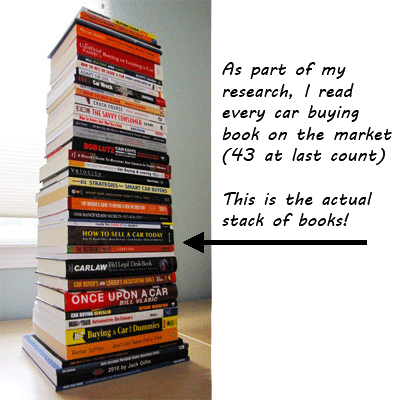 I felt there was too much dishonesty from dealers, along with too much confusing information and bad advice out there for consumers. I knew there had to be a way for someone like me, who's not particularly good at haggling, to get the best deal possible on any new car and not have to worry about being ripped off.
So, I Began to Research Like a Mad Man...
I tend to be very meticulous when learning a new subject, so what began as a curisoity quickly turned into an obsession. I had to research everything I could get my hands on - I read EVERY car buying-related book I could find (43 at last count), authored by various "insiders". Each book had varying recommendations on how to buy a car (and some actually contradicted each other - which I thought was very odd).
I felt the books provided a good initial foundation, but I was just scratching the surface. I also poured through hundreds of industry trade journals, subscribed to dozens of automotive magazines, attended dealer conferences, studied sales training manuals, and spent literally thousands of hours doing my homework. I was actually enjoying it, and was determined to spare no time and no expense to discover every practical idea for making car buying easier, more transparent, and less expensive for the average consumer.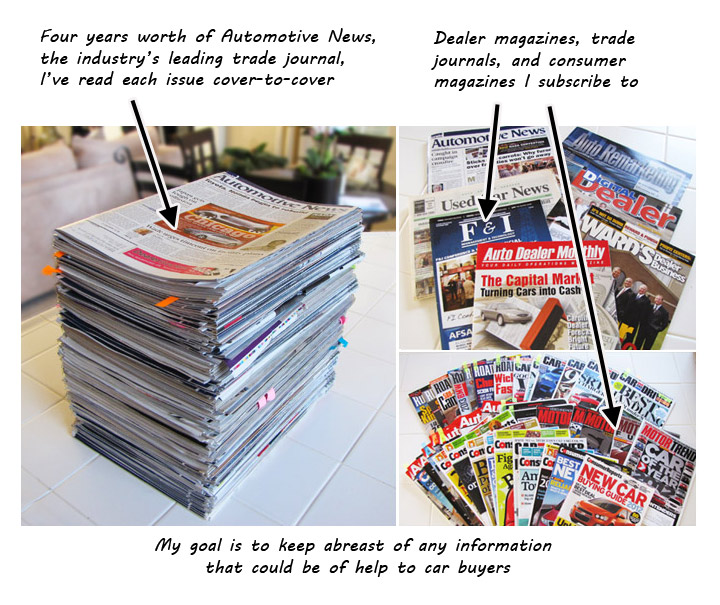 The Testing Phase
All of this research gave me a great understanding of how the industry works and the best ways to go about negotiating a new car, but one can't become an expert simply by studying. I had to actually test out my knowledge in the real-world, so I spent months practicing and refining my methods - by doing a stint as an auto broker (basically, a professional car price negotiator).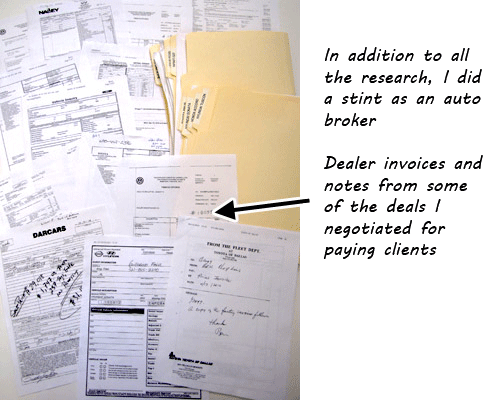 I found dozens of car shoppers who were willing to let me negotiate their new car purchase. I would have done it free just to gain the experience, but I charged a fee to ensure they would actually purchase the vehicle, not just kick the tires.You never know what kind of dealer shenanigans one might encounter when signing paperwork, so I wanted to be fully prepared.
The experience was priceless. It helped me understand and connect a lot of dots I otherwise would have overlooked. With real-world experience under my belt, I now know what works and what doesn't when negotiating on a new car. Through this site, I only recommend the car-buying methods that WORKED BEST for me.
Sharing Everything I Learned
I've taken everything I learned and condensed it into an online guide, "Honest Advice for Car Buyers", which is available on this site for free, or can be downloaded as an e-book on Amazon.com. I've broken down each part of the car buying process, (price, trade-in, financing, insurance, and add-ons) into easy-to-follow optimal check lists, trying my best to make things as easy as possible, with a strong emphasis on saving money and reducing hassle. I've also been writing a weekly "Car Buying Deals and Tips" email newsletter since 2008, which keeps my tribe of 60,000 car shoppers up-to-date on the latest incentives, deals, and car buying news.
In addition to all of this, I also learned how to program and design this web site by hand, just so I could have full control over everything I present to you.
As you can see, I take my job providing you with the best car buying advice very seriously. I literally run this site by myself - from every word published to every pixel designed and laid out, so it's straight-forward. I have no one to answer to - no manufacturers, dealers, or any other 3rd parties. You, the consumer, are the only one I answer to, and anything I recommend, you can be sure I've either tested myself personally, or believe that it's the best choice based on all of my years of research and practice. That's my honest promise to you. I welcome your car buying questions and will try to respond to each one (As the site has grown over the years, some emails do slip through the cracks, I apologize and do my best to answer). Thanks for visiting!