Detailed Instructions
Step 2.

Get the Best Financing Rate

Getting a car loan is typically the one place where new car buyers lose out on huge savings. It's the silent killer that slowly sucks hard-earned dollars out of your pocket.
That's because most car buyers get their financing through the dealership. Many have the mistaken belief that new car loans can only be obtained through this method. Studies show the average car buyer ends up paying 3% in extra interest on a loan financed through a dealership. On a typical $25,000 loan with a 5 year term, that comes out to more than $1,800 in extra interest payments.
The way to maximize savings on your car loan is to get rates from multiple lenders and have them compete against each other until you get the lowest possible rate. It's actually pretty simple, but the problem with most car shoppers is they go with the first rate they get. Worse still, this usually happens at the dealership after they've negotiated the price of the car.
Always Arrange Financing Before Going to a Dealership
Most car buyers have it backwards. They go to a dealership, negotiate the price of the car, then finally get financing. This is the worst thing you can do. Get financing first, then negotiate the car price. There are 2 reasons you want to do this. First, by arranging financing before the purchase, you'll know what rates the dealership will have to beat if they expect you to finance through them. Secondly, you won't fall victim to the shady practices many dealers deploy and get stuck with the high rates they typically offer. They know that negotiating the price of a car can be exhausting, and that you're willing to go along with a bad rate just to get the process finished and go home. Don't fall victim to their tricks.
1. Check Your Credit Score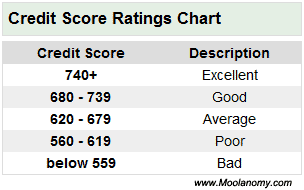 The first thing you need to do before applying for a loan is to check your credit score.
It's the key thing lenders look at to determine what rates you qualify for
. If it's below 600, you're going to have a very difficult time even getting a loan. If your score is above 720, you should be able to qualify for the best rates. It's also very important to check your credit report and make sure there are no errors. You'd be surprised how often people find mistakes which lower their credit scores, thus resulting in much higher loan rates.
Credit scores range from 350 to 850, with most people scoring in the 600s and 700s. Get your credit score to see where you stand and figure out which loans you can qualify for.
The best way I've found to check your credit score for free is to use Credit Karma.
Check Your Credit Score for Free
The other thing you need to check is your Credit Report. By law, you are allowed to check this for free once per year. It's always smart to do so, because a lot of credit reports have errors in them.
Get Your Free Credit Report Here
2. Start With Credit Unions
Credit unions are not-for-profit "banks" with the sole purpose of providing reasonable loans to their members. They tend to provide the lowest rates, so you should always include them when shopping for a loan.
In addition to being trustworthy and competitive, credit unions are more likely to work with first-time buyers. They also tend to charge the same rates whether you're buying new or used (most other lenders charge a higher rate for used vehicles).
In the past, joining a credit union meant you had to be part of a company or organization in order to qualify as a member. These days, there are countless credit unions with the sole eligibility requirement being that you live within a local geographic area.
If you're already a member of a credit union, make sure to get an auto loan quote from them. If you're not a member, you can locate credit unions at FindACreditUnion.com. Many of them have loan rates on their web sites.
3. Compare Rates With Online Lenders

The next thing you need to do is shop for loan rates online. Thanks to the internet, the process has become very simple and efficient. Many online lenders have less overhead expenses compared to traditional lenders such as banks. Because their costs are lower, they can sometimes pass the savings to you through lower interest rates.
Auto Credit Express is one source that allows you to shop several lenders with one form submission. They have dozens of lenders in their network and also specialize in getting financing to those who don't have the best credit.
4. Check Rates With Banks
Banks are another good source for auto loans. Oftentimes, they offer special finance rates that can be hard to beat. First, call up any banks that you currently have an account with. Tell them you're interested in buying a new vehicle and you'd like to get their auto loan rates. Make sure you let them know about the best rates you already qualified for and see if they can beat it. Remember, everything is negotiable! Repeat this process with at least 3 banks to get a variety of rates.
Make sure to include the followng three sources when comparing rates (these are some of the largest auto loan providers)
5. See if Dealer Can Beat the Best Rates
Your final step is reserved for when you actually visit the dealership to purchase the car. They will want to know if you'll be financing the vehicle. Since you went through the process of arranging your own financing, you're in a great position now. All you have to do is tell the dealer the best rate you arranged and see if they can beat it.
Dealers work with a network of indirect lenders, most of which work exclusively through dealers, so there is a chance they may beat your best rates. If so, think of yourself as lucky. If not, no problem because you can rest assured you got the best rates on your own.
Dealers also have exclusive access to their manufacturer's finance division, called captive finance. Examples include Toyota Financial, Ford Credit, and Honda Financial Services. Whenever you see special finance incentives such as 0% interest rates, it's through these captive finance companies. When a manufacturer offers special finance rates, they usually offer a cash-rebate as an alternative. In most cases you will have to choose between the two. If you can find a decent financing rate elsewhere, it's usually better to take the cash rebate from the manufacturer. Make sure to keep that in mind.
That's really all there is to it. Getting the cheapest car loan rate is simply a matter of taking the time to comparison shop. This entire process may take a few days to complete, but you'll be saving hundreds, if not thousands of dollars in the process.
---
After you decide which company to finance with, they will usually send you a blank check via next day air. You will be qualified for up to a certain amount, for example, up to $25,000. So now you'll know your budget. When you go to negotiate the price of the car, you just need to stay below this figure. When the deal is done, you can fill out the check and pay the dealership right there on the spot. But before you do that, you'll want to see if the dealer can beat the financing rate. Usually, they can't unless the car manufacturer has special financing offers. These are usually reserved for buyers with great credit. Either way, you don't have to worry because you will have already setup financing and it's up to the dealer to try to beat the rate.
That's it. You now have the knowledge to get THE LOWEST rate when getting a car loan. Good luck!